FEATURED

TRAVEL PHOTOGRAPHY

BY DAVID CARILLET
Singapore is a small but wealthy island country and one of only three commonly recognized city-states in the world. It prides itself on stability and diversity, with a fusion of Chinese, Malay, Indian, and Eurasian cultures and languages coexisting. What it lacks in size it makes up for in modern attractions, multicultural food options, and an increasing variety of green places thanks to ongoing efforts since its independence to transform the city-state into a "Garden City", and more recently into a "City in a Garden".
Evening view of Marina Bay and Singapore landmarks from Bay East Garden.
Supertree Grove and OCBC Skyway in Gardens by the Bay at night.
Decorations along South Bridge Road in Singapore's Chinatown.
The name Singapore derives from the Malay "Singapura", which itself comes from the Sanskrit "Simhapura", meaning Lion City. Allegedly, the Srivijayan prince Sang Nila Utama founded and named the island Singapura in 1299 after believing to have witnessed a lion while hunting. Since lions have never lived in Singapore, the animal – if the story is true – was most likely a tiger.
Glowing reflection of White Rainbow Bridge over Jurong Lake at night.
Peafowl beach cleaning crew at Siloso Beach.
Cloud Mountain and 35-meter (115 ft) indoor waterfall in the Cloud Forest dome.
Over 90% of Singapore's trash is incincerated – producing some 2-3% of the city's energy in the process – before being sent to Semakau Island, a special offshore landfill designed by the National Environment Agency. The ash is dumped into water-filled cells sealed with impermeable liners, which are eventually covered with soil when full. There's no smell or exposed trash to be blown away, and the island resembles a tropical getaway more than a landfill. There's even a Semakau Landfill tour that offers a limited number of visitors a chance to see the waste treatment process.
Crescent moon field goal through the Twin Pagodas at the Chinese Garden.
Flower arches in the National Orchid Garden at Singapore Botanic Gardens.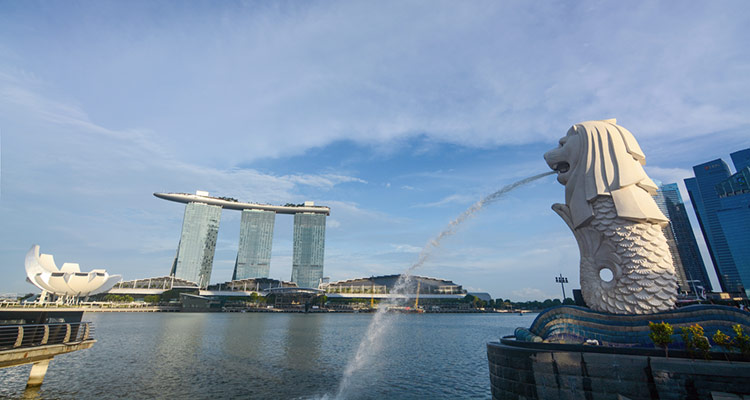 Merlion statue, Singapore's official mascot, overlooking Marina Bay.
The Merlion is half-fish and half-lion, the former paying tribute to Singapore's simple origin as a fishing village, which was known in Javanese at the time as Temasek (sea town), and the latter alluding to the Malayan name Singapura (Lion City). The Old English "mere" means sea, and lends itself to the compounds mermaid and Merlion.
TreeTop Walk 250-meter (820 ft) suspension bridge on the MacRitchie Trails.
The Marina Bay Sands integrated resort, ArtScience Museum, and Helix Bridge.
Relaxing beachfront along Siloso Beach in the evening.
Wild long-tailed macaque foraging for food near MacRitchie Reservoir.
Singapore's significant urbanisation has resulted in the loss of more than 95% of its historical forests, and consequently the local extinction of many plants and animals. Greening efforts undertaken since the 1960s to combat the problem have successfully covered almost half of the island in greenery. Today, nearly a tenth of the country's land is exclusively set aside for parks and nature reserves.
Symphony Lake at Singapore Botanic Gardens. The gardens are a UNESCO World Heritage Site.
Palawan Island and suspension bridge at night, just offshore from the resort island Sentosa.
Gardens by the Bay and the Singapore Strait, as seen from Sands SkyPark Observation Deck.
Since its independence in 1965, Singapore has increased in size by more than 20% due to extensive land reclamation. It is the largest importer of sand in the world and has spent billions of dollars importing vast quantities of it from other countries, which has led several of its regional neighbors to ban sand exports after sand dredging caused widespread damage to coastal environments. Despite the bans, sand mafias and corrupt officials in affected countries have allowed sand smuggling into Singapore to continue.
Unique architecture of the Reflections at Keppel Bay residential complex.
Pristine landscaping in Bay South Garden at Gardens by the Bay.
Cloud Forest and Flower Dome at Gardens by the Bay, in front of Marina Bay Sands.
According to a limited study by the British Council that measured pedestrian walking speeds in major cities around the world, Singaporeans were found to be the fleetest of foot. Walking and public transport are encouraged in Singapore, while car ownership is discouraged via a pricey Certificate of Entitlement (COE) quota license and bidding system that limits the total number of registered vehicles in order to reduce congestion in a country with limited land for new roads. Only about 15% of the population owns a vehicle.
Singapore Flyer, world's tallest Ferris wheel from 2008 to 2014.
Moon gate in the Bansai Garden at Singapore's Chinese Garden.
Night view of Supertrees in the Silver Garden next to Dragonfly Lake.