All Travel Accommodation Options Compared
When most people think of travel accommodations, hotels are probably the first thing that comes to mind. There's a wide variety of options to spend the night though, and the best solution may differ depending on the length of your trip, your age, and what part of the world you're traveling in. Read on for a comparison of the accommodation types that I use most often, plus some lesser known options like share houses and housesitting.
Hostel
Lounge at Plearn Hostel in Chiang Mai, Thailand. I loved this hostel so much that I decided to stay for 3 weeks. The breakfast, provided for free daily, always included lots of fresh fruits.
Hostels usually offer the lowest price to lay your head and are popular with budget travelers for this reason. At the low end I've commonly seen $5 to $15 USD, depending on which part of the world. They tend to attract a younger crowd, but I've seen all range of ages. Lack of barriers and mingling in the lounge area makes forming friendships relatively easy. Hostels keep prices low by renting beds in dorm rooms, although some also offer the option of a private room for a higher price. It's common to see both separated and mixed gender dorms. Beds often have a privacy curtain. Bathrooms are generally communal, but the toilets and showers are private stalls.
When choosing a hostel, you may wish to consider – in addition to reviews – what features are important to you, such as washing machines, kitchen, lockers, breakfast, towels, etc. Some of these features are more common than others. I've booked all my hostels through HostelWorld and Hotels.com. HostelWorld makes it super easy to filter by facilities, price, rating, distance, and a lot more.
Some hostels are run as a family business or by close friends who may show extra hospitality like planning movie nights or joining their guests for some local cuisine. Once when I was at Plearn Hostel in Chiang Mai, I asked for assistance in hiring a tuk-tuk to visit Royal Park Rajapruek. To my surprise, one of the owners offered to drive me in her car, as well as bring me back to the hostel in the evening. I tried repeatedly to offer her gas money. It was politely refused.
On a cautionary note, some hostels allow anyone to control the AC in the dorms at will. This has occasionally been a problem for me as I get cold easily. However, I've only had issues in Thailand, which tends to attract more American and Canadian tourists who love cold AC. And by cold I mean 61F (16C).
Hostel pros and cons
Pros: Usually the cheapest, convenient location
Cons: Lack of privacy, noise and snoring is often an issue
Book at: HostelWorld, Hotels.com
Hotel
Morning view from my hotel in Rome, Italy. While looking through my pictures of hotels, I realized I've stayed in very few, and took even fewer photos.
There's not much I can say about hotels that isn't common knowledge. A hotel is a hotel anywhere in the world. With a large part of their customer base being tourists, they'll probably offer the most familiar experience. I travel to escape familiarity, so I rarely use hotels. I also usually stay in one area for a long time, so hotels aren't cost effective for me when the price is generally $50 USD or more per night at the low end. However, I can also understand why home comforts like a quality bed and undisturbed silence may be desired by night while still seeking the unfamiliar by day. This is one of the reasons that I've used home rentals more than any other form of accommodation. More on that in the Airbnb section below.
I've booked all my hotels through Hotels.com and Booking.com. I usually prefer the former because whenever you accumulate 10 booked nights through Hotels.com, you earn a free night worth the average price of the last 10 nights you booked. No annoying blackout dates or restrictions. Pretty neat! Both websites offer an incredible amount of properties, from hotels to resorts, villas, cabins, apartments, etc.
Hotel pros and cons
Pros: Most familiar experience, convenient location
Cons: More expensive, kitchen isn't common
Book at: Hotels.com, Booking.com
Airbnb
Airbnb guest room in Busan, South Korea. Hosts often go to great lengths to make their guests feel at home with the comforts they would have in their own house.
I've spent more nights in Airbnb rentals than any other accommodation. For the longer length of stays that I usually do, I appreciate my privacy and not listening to snoring, and that is what you can expect to find with Airbnb as the service is founded on the idea of homeowners renting a private room in their house. One thing I like about the service's website is that reviews aren't just about the room, but the host as well. Likewise, hosts are also able to leave a review of their guests. This encourages both good hospitality and good behaviour. That doesn't mean it's foolproof though, and that is my main con with the service. You could, for example, end up with a host that proselytizes to you every day, as one of mine did. However, as a whole my experiences have been very positive and I've really enjoyed the conversations and local tips from many of my hosts.
Common prices for a private room range from $15 USD at the low end to hundreds at the upper end for much more luxurious homes. When booking through Airbnb, be aware that shared rooms and hostels may also be listed. Filtering options make it an ease to search for private rooms only, price range, desired amenities, and plenty of other options. If you have a natural ability to unwittingly invoke the ire of dogs, as I do, or if you suffer from a dander allergy, then pets might be one more detail to check the accommodation description for or ask the host about if it concerns you.
My ideal form of travel is getting a feel for everyday life in a city while still feeling at home, and Airbnb achieves this for me. I can leave unnecessary things from my backpack in my room without worrying about theft while out for the day. I have a kitchen and refrigerator to cook my own meals and keep food costs low, and I get a sense of life as a local. Many of the homes I've stayed in are more comfortable than a hotel and for half the cost, with a beautiful property to boot.
Airbnb pros and cons
Pros: Home comforts, feel of local living
Cons: Environment might be disagreeable, beware of dogs
Book at: Airbnb (First-time users will get $40 in travel credit with this link.)
Capsule hotel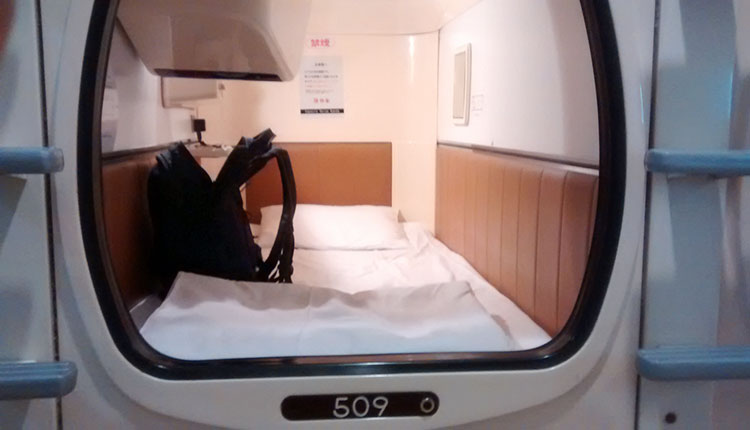 My single bag in "room" number 509 at Capsule Value Kanda in Tokyo, Japan. One has to wonder what the fire code limit on floorspace is in Japan... On the plus side though, you're already in a coffin if the building burns.
Don't want to pay full price for a hotel? You can pay half price for half the space with a capsule hotel. Rather, half of a half of half the space. Divided by half. Capsule hotels were invented in Japan, as you probably could have guessed, and they're somewhere between a hotel and a hostel – leaning more toward the first. I tried one mostly out of curiosity, because honestly, I don't see the value in them over a hostel. Both have a similar noise potential from snoring and similar dorm-like conditions at relatively the same price point. And you probably won't be making any friends at a capsule hotel. I did have my own TV and radio, that's something. Might be nice if you're not interested in sleeping.
The biggest turnoff for me, however, is the communal bathrooms. Not communal like a hostel, which has private stalls for showers. Communal like prison showers in a single room without any privacy barrier, where you don't bend over if you drop the soap. But hey, I've never been a fan of the naked hot springs either, so to each their own. Consequently, I didn't shower during the several days that I stayed at Capsule Value Kanda. Yes, it was probably noticeable.
Still, for a day or two? Give a capsule a try. Maybe you'll find I'm making a big deal out of a tiny thing.
Capsule hotel pros and cons
Pros: Cheaper than a hotel, more privacy than a hostel
Cons: Less privacy than a hotel, not much airflow if you fart
Book at: Hotels.com
Share house
My room in a share house in the beautiful Arashiyama area of Kyoto, Japan.
I discovered share houses by accident through Airbnb while searching for a room in Kyoto. A share house is typically a large flat or house that a rental company owns and rents each room from individually. The rooms are private while the common spaces like kitchen and bathroom are shared. My experience in a share house in Kyoto for 6 months is one of the best living experiences I've had. The building was converted into living quarters from an old restaurant, so it retained a good size kitchen and traditional Japanese architecture, as well as traditional shouji doors/windows and tatami flooring. The location was perfectly situated in Arashiyama, a beautiful district in the west of Kyoto that was popular with nobles when the city still served as the capital of Japan.
Arashiyama retains its beauty today with traditional homes and quiet neighborhoods set against a backdrop of Mount Arashi with the Oi River cutting through. The verdant Arashiyama Bamboo Grove, featuring a forest of giant bamboo, was literally a 2-minute walk from my front door, as well as a few nearby temples. In autumn, the area transforms into a delight of color as the maples that Arashiyama is known for produce their most fiery reds.
The view from my room window in Arashiyama was always changing, from colorful sunrises and misty mountains to a wild macaque stealing fruit from the neighbor's garden.
I rented the largest room in the share house for $530 USD a month, inclusive of everything. Rooms were priced according to size, with the smallest being a mere $265. Who says Japan has to be expensive? Part of what made the experience so memorable was my housemates, a mix of locals and visitors. We sometimes made dinners together, met up for hikes, and celebrated local holidays. It felt a bit like a family, and I was lucky to meet such a great bunch all in the same house.
I also stayed in a share house in Taipei, Taiwan for about 8 months, hoping to repeat the experience I had in Kyoto. This is where I learned that this type of accommodation can be hit and miss. Unlike my house in Kyoto with private rooms, the house in Taipei had shared rooms. It felt very much like a hostel, which can be nice for short stays, but not when surrendering privacy for 8 months. And unlike hostels, which are cleaned by staff, shared rooms are cleaned by the tenants...if they decide to clean. It's fair to note that I'm a relatively clean and private person, but these are potential issues to be aware of nonetheless.
My Kyoto share house was rented through J-Stay, initially via Airbnb and then from J-Stay directly. They have dozens of houses across the city, including some that are exclusively for women. The Arashiyama house I chose was Saga Ogura So. In Taiwan I went with Borderless House, which also has houses in South Korea and Japan. If shared living interests you, a search for "share house" or "flatshare" for your destination country is probably the most straightforward way to discover what options are available, because a lot of them aren't listed on the usual booking websites.
Share house pros and cons
Pros: Feel of local living, affordable
Cons: Potential cleanliness issues, might hear lovey-dovey couples noises
Apartment
My studio apartment in New Taipei City, Taiwan. Floorspace in Taiwan is measured by ping, with 1 ping equivalent to 35.59 sq ft (3.306 sq m). This apartment is little more than a few pings and rents for $415 USD/mo.
If you're staying in an area long enough to make signing a lease feasible, then an apartment may offer the best value for autonomy, comfort, and normalcy. However, renting can be very complicated if your destination presents a language barrier. For this reason, I found that searching English language groups for Taiwan apartments on Facebook was the best option to rent my apartment in Taipei. Facebook may seem like an odd option for rentals, but some of the listings in these groups actually included more pictures and information than listings for the same place on local rental websites.
When considering an apartment via Facebook, I highly recommend seeing the place in person first and looking thoroughly for any signs of leaks or disrepair. Don't just rely on the pretty pictures, which might be outdated. Be cautious of unusually high or nonrefundable security deposits, and research how much a typical deposit in the area is. If the landlord pays the electric bill, make sure they are charging you the real cost per electric unit. Read your lease in full before signing anything (It is printed in your language, right?) and be sure to ask for clarification if anything isn't clear. If you're still in doubt, try to bring a local friend to help. They may be more familiar with the rental process.
Apartment pros and cons
Pros: Complete privacy, your own house rules
Cons: Requires a contract, long-term commitment
Overnight train or bus
Overnight train from Bangkok to Chiang Mai, Thailand. If only there were overnight planes with beds too for those 14-hour international flights.
As a kid, I always found it easy to fall asleep to the rumble of the engine in my parents' motorhome during long drives into the night. And the magical time leap that occured when I fell asleep, later to awake at our destination, made passing those otherwise seemingly endless drives effortless. That's the experience you get with a night train or a night bus. It's an efficient and reasonably comfortable way to conquer two necessities of travel: long distances and sleep. I especially enjoy night trains, as the swaying of the cars helps rock me to sleep and drown out lesser noise from passengers. Privacy curtains are usually provided, as well as a pillow and blanket.
The experience does feel a bit incomplete without the dashes of scenery out the window, something I have greater appreciation for in adulthood than in childhood, but night journeys still manage to include an hour or two of travel during the morning hours as well, just before arriving at the destination.
Overnight train or bus pros and cons
Pros: Efficient use of travel time, good value
Cons: Not a viable solution for every night, you'll miss the scenery
Train station
Unhygienic man sleeping on a bench at a train station in Italy. Go to sleep with an itchy butt, wake up with a stinky...
I think I've slept in train stations just as many times as I've sworn I'll never sleep in another one. I don't recommend this as a deliberate option. It's uncomfortable, lacking in security, and full of shady people. Still, if you miss your train transfer because everything is in Italian and you end up arriving at midnight 4 hours later than planned in a new town without a smartphone, here's how to sleep in a train station without becoming a victim of theft: Take everything out of easily-accessible clothing pockets and put it in the main compartment of your backpack or luggage. Do the same for side pockets on your luggage, then pull the zippers on the main compartment to a middle position and throw a large article of clothing over it. Now use your luggage as a pillow, ideally pinning it between you and a wall or corner. The zippers will be under your head. You should wake with your possessions intact. This has always kept my things safe. On more than one occasion, others sleeping next to me awoke to find valuables missing while mine remained untouched.
Train station pros and cons
Pros: Free, at least it's not a police station
Cons: Very uncomfortable, potentially easy theft target while sleeping
Sleep outdoors
5:00 and 5:38 AM sunrise on The Lido in Venice, Italy. 5-star equivalent view, 0-star equivalent sleep conditions.
On occasion I've intentionally slept under the stars. No tent, nothing to cover up with; just bare earth below and a ceiling of glowing giants above. Sounds romantic, right? I usually think so too for the first several minutes, but then comes the next several hours... Like one time on The Lido in Venice, Italy when I thought that it would be an unforgettable experience to sleep on the beach. It started well enough, with one of the best sunsets I've ever seen. But as the warm colors faded, so did the warmth of the day. Mediterranean winds quickly turn hot days into chilly nights, and I was far too cold to sleep. The only shelter from the wind I could find was a portable toilet full of mosquitoes. I sat in there until 5:00 AM, slapping at every buzzing sound between brief moments of nauseous half-sleep. Unforgettable indeed. At least a beautiful sunrise awaited me when I survived the night.
Sleeping outdoors can be enjoyable. Just choose the setting carefully and take appropriate consideration of the weather and things that bite.
Sleeping outdoors pros and cons
Pros: Potentially free, surrounded by beauty of nature
Cons: The weather may have other plans, mosquitoes
Airport
Entertainment area at Changi Airport in Singapore. If I had to live in an airport like Viktor Navorski from The Terminal, I'd hope I could choose this one.
Many frequent travelers have at least one experience of sleeping in an airport. It may be out of necessity for a budget flight with a long layover or early morning departure, or it may be due to an unexpected flight delay or cancellation. However, some thrifty travelers sleep in airports not by chance but by choice to keep expenses low. In fact, there's even a Sleeping in Airports website that features airport guides and reviews to help make your stay more comfortable and know which airports to avoid.
An important thing to note is that not all airports accommodate passengers 24 hours. I first learned this when the Gimhae International Airport in South Korea kicked me out at 11:00 PM. My flight arrival time was later than the check-in time for my accommodations, so I had planned to spend the night in the airport and catch the first train into the city come morning. With that plan ruined, and the last train of the night already on its way to the city, the only remaining options were to wait in front of the airport until morning or walk 9 miles (14.5 km) to my destination. I chose to walk.
Now if I fly to a new airport, I always check first if it's open 24 hours.
Airport pros and cons
Pros: Free, tends to have decent security
Cons: Potentially noisy, might not be open 24 hours
Couchsurfing
I've used the hangouts feature in the Couchsurfing app many times to meet up with new people, but I've never used the service for its original purpose, which is to find homestays that are offered freely. The basic concept is that registered members can offer their couch or other spare sleeping space through the website and app. Members who have connected with each other can review the experience, which builds credibility and enhances safety.
Couchsurfing hosts are often people who simply enjoy guest interaction or meeting travelers from other cultures. They are not allowed to charge you, but it's not a bad idea to treat your host to a restaurant or leave a decent gift as a thank you. Stays tend to be short-term; a few days to a week is common. Friends have told me that hosts invited them to stay longer when they got along well, months in some cases. That said, if I were to use Couchsurfing for lodging, I would continue to treat it as a people experience, not a means of seeing how cheap I can travel.
Find a host at: Couchsurfing
WWOOF
World Wide Opportunities on Organic Farms (WWOOF) is an exchange service in which volunteers work about 4 to 6 unpaid hours a day on an organic and eco-friendly farm, for which the host provides meals and lodging in return. It's an opportunity to see another part of the world, meet new people, and experience a rural life while learning about organic lifestyle methods. The arrangement can be for weeks, months, or even years.
If you can't afford to travel (or even if you can), this can be a great way to experience life in another country and contribute to more sustainable farming in the process.
Find a farm at: Federation of WWOOF Organisations
House sitting
House sitting is something I haven't tried yet, but have been researching with interest for the future. It's an agreement where a homeowner entrusts their house and certain responsibilities for its upkeep to a "house sitter" while away for vacation or other matters for weeks or months. In the majority of cases these responsibilities include caring for pets, but they may also include things like lawn care, receiving mail, tending gardens, and other general house maintenance. The agreement benefits both parties; homeowners save on costly pet and home care, and lower their risk of theft, while house sitters receive free lodging in beautiful homes around the world and get a true sense of life as a local.
House sitting agreements are safely arranged through dedicated websites. The most widely used sites all charge a membership fee ranging from $20-130 USD a year, although Nomador does have a very basic free account option as well. One good house sit will easily pay for the membership fee, but landing your first sit may be a challenge when you're new and have no reviews for credibility. This is where I've noticed some house sitter "experts" are cashing in with guides to becoming a successful sitter, but I've found plenty of free guides on YouTube that I can imagine offer the same information.
Sign up at: Nomador, TrustedHousesitters, Housecarers, MindMyHouse
Disclosure: This page contains affiliate links, which means, at no additional cost to you, I may receive a commission for sign-ups or sales. I stand by the recommendations (and criticisms) I make, and refuse to promote a service if my experience with it is negative.