How to Fit Your Life in Just One Bag (What I Pack)
If you were to reduce your life's possessions down to the space of a single backpack, what would you keep? What would you let go? When I made the decision to travel the world indefinitely with only a backpack, I thought carefully about what my needs and wants are. As it turns out, when dividing my possessions in this manner, my list of needs actually isn't that large. The value of something can change quite a bit if you are forced to bear the weight of it every day. Packing light can potentially add more enjoyment to your travels, even if it means sacrificing some comforts.
Why travel with only a backpack?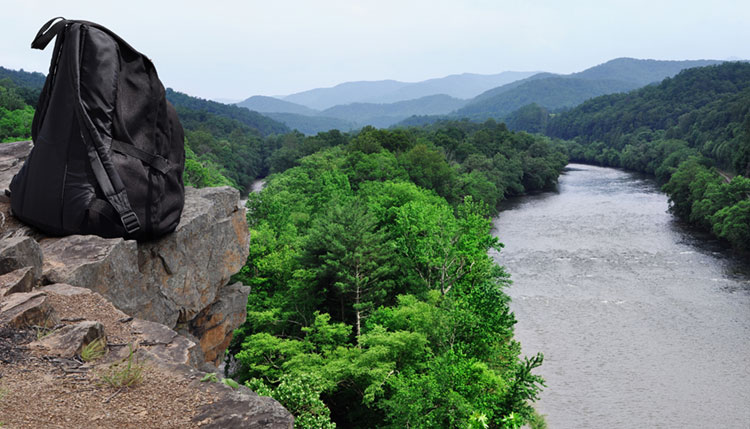 Not my backpack, I just thought it made a better cover photo. See my bag and full contents below. Photo location: Paint Rock overlooking the French Broad River in Hot Springs, North Carolina.
There are many reasons to aim for a single backpack when traveling. From a budget travel perspective it makes economic sense. A carry-on that fits in the overhead compartment or under your seat is usually free, while checked baggage will commonly incur a fee in the range of $25-30 USD or more per piece, often higher for a second or third checked bag. That adds up if you fly frequently. Some budget airlines are notorious for steep checked bag fees to offset low-cost flights. Overweight and oversized bags will especially hurt your wallet, with fees of up to $200 USD. Yikes!
From a minimalist lifestyle perspective, traveling with only a backpack can be very liberating. You may feel a sense of more freedom and relief from the burden of material things. The less you own, the less you have to lose. Every day we are bombarded by ads telling us what things we need in order to be happy in life, but I've only felt increasingly free and more human in giving up those things. When all my stuff fits in one bag, I feel confident that I own my possessions rather than vice versa. I can throw it on my back and be in a new place tomorrow. The things that contribute most to happiness – health, physical activity, freedom of movement, new experiences, not having a boss – don't require physical space.
You don't have to be a full-time traveler to reap the benefits of packing light. Who doesn't love strolling right past baggage check-in and reclaim while all the other losers passengers have to wait? Not worrying about damaged or lost luggage is always a plus. And there's the obvious benefit of carrying less weight. I love travel, but I don't like travel stress. A single carry-on size backpack reduces that tension for me.
What is in my bag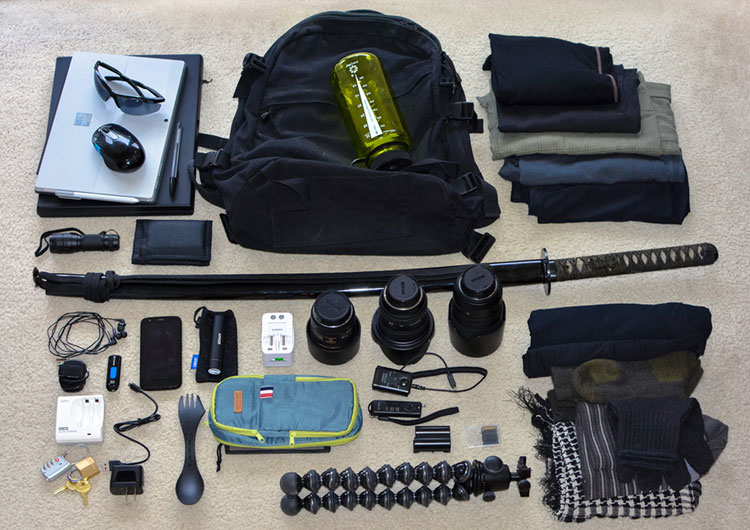 What I packed when I left America for Kyoto. One item wasn't TSA-approved and had to stay behind. Not pictured: Nikon D7100 camera and 35mm lens used to take the photo, plus battery charger and Teva sandals. Also, clothing and jacket that I was wearing at the time. The remainder of my things, a box of sentimental keepsakes and important files, is in storage at my mom's place.
The ultimate light packing list will vary from person to person. This was my original packing list when I left America on March 5, 2016 and it has changed very little in the years since. The full weight of the 50+ items, minus the sandals, is about 22 lbs (10 kg). Like a true bargain hunter, I procured most of my crap by sitting at home in my pajamas and typing Amazon into my browser address bar. My gear list below includes Amazon affiliate links for most of those products. I will receive a small commission if a product is purchased via these links, but the price for you remains the same.
Blackhawk 3-day Assault Backpack - I bought this used in March 2011 and it still looks like the day I got it. The backpack is 37L midsize and fits under the seat of every budget airline I've ever flown with. It has 3 compartments, although I use the hydration system slot as a secret 4th for my passport and money. The ventilated back panel helps decrease sweat waterfalls on my back. One downside is it's a bit heavy at about 2.5 lb (1.1 kg) when empty, probably due to the 1000 denier nylon material it's constructed from, but it sure can take a beating. I once flipped over the handlebars of a bicycle with tiny 16" wheels that failed to overtake a low curb along a Kyoto road. I landed on my back and slid a couple meters down the sidewalk, much to the horror of a young Japanese couple whose date I probably crashed. The backpack took the brunt of the fall and didn't bear a single scrape or fray. Amazingly, my back still bore a long rash-like scrape down my spine through multiple layers of the backpack and clothing. Had I not been wearing the pack, I imagine I would have required medical treatment.
Surface Pro 4 - After much debate over what to replace my beloved custom-built gaming desktop with for travel, I decided to give Microsoft's 2-in-1 laptop/tablet Surface Pro 4 a try. I really liked the concept, it seemed ideal for lightweight portability. The first year of use was great and I appreciated hardly feeling it in my backpack. However, it then developed the infamous screen flicker issue that has plagued so many Surface owners. The problem is so bad now that I can only use it with a strong fan pointed at the backside of the device, and even then the flicker persists. Microsoft finally acknowledged the issue after countless user complaints and will now replace affected Surface Pro 4 devices for up to 3 years from the date of purchase, but only in the country it was purchased in... And so the bottom of my screen continues to flicker, reminding me to never buy another Microsoft hardware product.
Protective computer case - My Surface Pro 4 is so thin that I was concerned it would bend and warp inside my backpack, especially after reading a story from another user who experienced just that. After much searching, this case from Plasticase was a perfect fit. It's 1.1 lbs, which somewhat defeats the lightweight benefit of the SP4, but at least the case doesn't flicker...
Microsoft Sculpt Comfort Bluetooth Mouse - It seemed like a good pairing for the Surface Pro 4. It's a basic wireless mouse, and does what a mouse does. Occasionally the Surface doesn't recognize it, and I have to turn the mouse off and back on again to fix the bluetooth connection. I don't know if the Surface or the mouse is at fault there. After 2 years it developed an issue with not always recognizing clicks, which is kind of important for a mouse. I've been wedging little pieces of paper under the clicker over time so that it will continue to make contact and register clicks.
Hilton Bay Sunglasses UV400 - After seeing many photos of travelers with sunglasses atop their heads, I somehow thought this would be an essential item. Turns out, I don't like looking at the world through dark plastic. The sunglasses probably saw a total of 30 minutes of use. The rest of their short existence was spent atop my head until they eventually broke as the result of my head repeatedly meeting low Japanese doorframes against its will.
Nalgene 32oz BPA-Free Water Bottle - The only water bottle I've ever needed. Saved 50% on the price thanks to a deal from my sister, and it has saved me hundreds of dollars more by not buying bottled water in countries with unsafe tap water. Just refill from the filtered water at a hotel/hostel; you're welcome environment. The bottle has never once leaked a drop. I trust it next to my camera equipment in my bag all the time.
Nikon D7100 24.1 MP DX-Format SLR - An upgrade from the Nikon D90 I used from 2010 to 2015. The bump in image quality and working pixels has allowed me to do a lot more. I've only owned a few cameras, which isn't a great point of comparison, but I've been nothing but happy with my D7100. It's still performing perfectly after weathering rain, cold, humidity, and a fall on wet rocks. Had I broken it, I would have bought the same model again because I don't feel any limitations on my photo quality.
Nikon 70-300mm f/4.5-5.6G Zoom Lens - The only telephoto lens I use. Invaluable in getting close shots of animals, people, architectural detail, and pickpockets. I had considered several different telephoto lenses when making the purchase, eventually pulling the trigger on this one after comparing reviews and sample photos. Still feels solid after entering service in 2010. I've never experienced lens creep when hanging it over my shoulder either, which seems to plague some models of zoom lenses.
Nikon 35mm f/1.8G Lens - Super sharp prime lens. It focuses fast, performs well in low light, and weighs a measly 200g. Most of my panoramas are produced with this lens due to the pleasing scale and low amount of distortion. The focal length makes it great for a wide variety of situations as 35mm on a APS-C sensor isn't too far off from the level of magnification you'd get with the human eye. I've got way more use out of it than I ever thought I would.
Tamron 90mm f/2.8 1:1 Macro Lens - My macro lens for focusing on tiny details, flowers, and bugs. I use it far less than any of my other lenses due to subject matter, but when it comes to macros, the image quality really is solid.
Tokina 11-16mm Ultra-wide Angle Lens - Possibly my most used lens. I've come to love wide-angle photography more and more. Not just getting it all in, but playing with crazy angles and bringing a very different perspective to the scene. The rubber grip for changing focal length has become loose after many years of use, but it's a trivial issue. The lens itself feels very solid and shows no other sign of wear.
Joby GorillaPod with Ballhead X Bundle - I didn't want to pack a full size tripod due to weight and size issues, as well as the fact that tripods are often banned in carry-on baggage due to their ability to assault 3 people at once. This GorillaPod, however, has never been an issue to travel with. There have been times that I've felt limited without a full tripod, but there are also many shots that would not have been possible without this, like hanging it from tree branches, positioning it inches off the ground, and wrapping it around a light pole above peoples heads during crowded New Year fireworks. Sometimes I've been able to use it in places where traditional tripods are banned. The rubber rings on the joints get a bit skinned up on things like tree bark, but it hasn't compromised the functionality. The model I got seems to have been replaced by this newer one.
Vello FreeWave Remote Shutter Release for Nikon - An absolute must for night photography! Weighs nothing and can be used wireless or wired. If you do any long-exposure photography, you need a remote shutter release. I usually use it wired, but the wireless range is quite impressive and has proven useful in remotely capturing animal and human subjects when being near my camera would have alerted them. Also great when you want to take a photo of yourself from 30 meters away but can't run fast enough to beat the camera timer.
Nikon EN-EL15 Rechargeable Li-Ion Battery - Secondary battery for when the other one has been depleted. One battery usually lasts me for a whole day of shooting.
Nikon MH-25 Quick Charger for EN-EL15 Li-ion Battery - Because charging your batteries from lemons doesn't work.
SanDisk 32GB Ultra Class 10 Memory Card (2 cards) - Now ultra affordable. I've never had a card fail on me (knock on wood).
Transcend 32GB USB 3.0 Flash Drive - Small and convenient.
Panasonic eneloop AA Ni-MH Rechargeable Batteries, 4 Pack - I use these in my wireless mouse, and occasionally on anything else that I need AA batteries for. I kept 2 and gave the other 2 away, because I'm not carrying that extra 62 grams with me.
Panasonic eneloop AAA Ni-MH Rechargeable Batteries, 4 Pack - For use in my flashlight.
Sanyo NI-MH Quick Charger For AA / AAA Rechargeable Batteries - Tiny lightweight charger that recharges both AA and AAA batteries. Unfortunately it seems to have been discontinued, so it's harder to find now.
Master Lock TSA Accepted Cable Padlock - I used it a few times on the zippers of my backpack when sleeping in areas where I was concerned someone might try to silently open my pack while I'm dozing. Now I find it easier just to throw a shirt over the zippers and rest my head over it.
Master Lock Solid Brass Padlock - I use it occasionally at hostels if they don't provide their own locks for lockers. Even the best lock only keeps honest people honest, and most can be picked in 30 seconds or less with enough practice, so I usually just keep my backpack with me at all times.
Motorola Moto G - Global GSM - Unlocked - Yeah, yeah...even old ladies laugh at me, but I don't care. I didn't own a smartphone until 2016. Even then, I only got one for maps and translation. I do use it for a lot more now, but it still handles my needs just fine, and during periods of low usage I get 6 days off the battery without resting it.
Motorola USB Wall Charger with Micro USB Cable - Because charging your phone from lemons doesn't work.
Anker PowerCore+ Mini Portable Charger - Tiny charger and invaluable for those inhumane airports that have only a few wall outlets. A full charge on the battery is just enough to fully recharge my phone one time, and unlike the larger brick-style chargers I never feel this one in my pack.
Panasonic ErgoFit Earbud Headphones - They were pretty cheap and I didn't expect them to last long, but they're still going strong.
Light Winter Jacket - A lightweight winter jacket my mom brought back for me from Halifax, Nova Scotia. By stuffing the pockets with things like batteries, locks, accessories, and coins it helps me convert my backpack from 10 kg to 7 kg for budget airlines with strict carry-on limits.
Stoic Merino 150 Crew Long Sleeve - Thin but durable long-sleeve. The material is thin enough to be worn in hot weather with the sleeves rolled up. Knowing now what I do about wool production, I'd opt for a different material next time. But it doesn't look like it will wear out anytime soon.
Royal Robbins San Juan Short Sleeve Shirt - For when you want to avoid sunburn, but punish your arms.
Icebreaker 150 Tech Lite Short Sleve Shirt, UPF 30+ - For when you want to avoid sunburn even more, but still punish your arms.
Level Six Short Sleeve Shirt, UPF 50+ - For when you really want to avoid sunburn...but still punish your arms.
Black Game of Thrones T-shirt - I'm a fan of the realm.
Thick and durable belt - Great for keeping your pants from sagging when you've filled all the pockets with things from your pack in order to pass the 7 kg carry-on limit on budget airlines. You can also throw it over a wire to zip-line to safety out of a burning building or use it for a life-saving tourniquet.
prAna Stretch Zion Pant - Super comfy pants with a subtle stretch. Supposedly good for rock climbing. The bottoms can roll up and snap into place, which can be handy in certain situations. I find them a bit too baggy for my liking, but it's possibly a sizing issue.
Columbia Men's Silver Ridge Convertible Pant - My favorite pants ever. Hardly weigh anything and quick to dry when wet. Doubles as shorts with easy zip-off legs, which is very useful for packing light. The material is so thin that I was concerned they would rip easily, but they have held up incredibly well. In fact, the only hole they developed is from a nasty fall I took on wet rocks in Sydney, and considering the gash my knee took underneath the material, I'd hate to see what it would have looked like if the pants hadn't suffered the worst of it.
ExOfficio Boxer Shorts - Underwear (2 pairs) - Breathable and good quality material, but the waistband becomes stretched long before the material will wear out.
ExOfficio Boxer Briefs - Underwear (3 pairs) - Couldn't decide between boxers or briefs, so went with both.
Men's Lightweight Shemagh - Occasionally gets used as a scarf in winter, but more often in summer when I'm going to have sun on my neck all day. Also keeps my wide-angle lens wrapped when not attached to the camera.
Arc'teryx Rolling Stripe Hat - Very warm reversible wool hat. Knowing now what I do about wool production, I'd opt for a different material next time.
Rothco Gi Wool Glove Liners - Simple and effective. See previous thoughts on wool.
Terramar Everyday Merino Wool Socks (2 pairs) - See previous thoughts on wool.
Teva Kitling Sandals - Half shoe, half sandal; socks optional. One of the laces broke after a lot of wear, and one of the lace loops is slowly tearing through, but I've walked 4 digits worth of miles in them and they're still in pretty good shape. It's not easy for me to find comfortable footwear for my wide feet, but these fit the bill. The model I got seems to have been discontinued, but this and this are a similar style.
JAVOedge Toiletry Travel Bag (and personal items) - Light as a feather. I didn't notice the California Proposition 65 warning until after I purchased it, so maybe I was exposed to toxic chemicals. Thanks, China.
Light My Fire Spork - I would opt for an alternative material next time, like a coconut shell spork. Since plastic takes up to 1,000 years to decompose, I guess I'm stuck with this for a while.
Universal AC Power Plug Travel Adapter - Compatible with the 4 most common socket types around the world.
LE Adjustable Focus LED Mini Flashlight - I use this primarily for throwing a bit of light on photography subjects sometimes and for light painting.
Nylon Wallet - I'll probably go with something simpler like a thin card holder when this wears out.
Bic Ballpoint Pen (2 pens) - I like to fill out my immigration arrival cards before landing.
Chopsticks - Washable and reusable.
Pedometer - I had the idea that I would keep track of how many miles I've walked. I stopped counting after the first couple months.
American Passport - Not available on Amazon (yet).
Planning your own single bag
A good way to plan out your ultimate light packing list is to start with a short list of things you know you will use almost every day. For me this is my computer, mouse, phone, water bottle, camera, lenses, and potentially plug adapter depending on which country I'm in. Then think about how often you want to do laundry and make a list of clothing items that will last you for that range. Once a week is a good frequency to plan for if you're not sure. Pants can be worn longer than shirts without smelling, so I packed more shirts accordingly. Although, I did end up buying more shorts soon after I left. I've never had difficulty finding laundry service; it's usually available on the premises for accommodations through hostels, Airbnb, and hotels.
At this point you've got your essentials covered and can think about what optional or infrequently-used items to consider for the space you have remaining. There may be things you don't need but want to bring to make life easier. Just remember that "easier" is relative to the stress and weight of carrying it with you. It's better to pack too little than too much. If it turns out you need something, you can always buy it along the way. The price may even be cheaper in another country.
Additional considerations
The amount of essential clothing is obviously climate-dependant. Sticking to warmer climates or simply avoiding colder ones during harsh months will drastically reduce the space needed for clothing.
Fancy compartments for organization aren't necessary in a backpack and can potentially be a hindrance. I prefer a simple and spacious backpack because I frequently use it as a reusable shopping bag when I go grocery shopping. Thin nylon packing cubes will meet your organizational needs if desired.
Some countries may have more severe weather conditions than you or your electronics are accustomed to. I keep a few large Ziploc bags in my backpack to cover my computer, camera, and smaller electronics in wet conditions. When I'm shooting in cold weather or even in a very cold building, I put my camera inside a Ziploc before moving to a warmer room to allow it time to acclimatize and prevent condensation inside the camera that could potentially damage it or leave spots on the sensor.
Disclosure: Roads and Ridges is a participant in the Amazon Services LLC Associates Program, an affiliate advertising program designed to provide a means for us to earn fees by linking to Amazon.com and affiliated sites.